Get rid from fear of vomiting (Emetophobia)
Living with Emetophobia: How it Affects Your Life
Constantly being cautious to avoid contact with sick people or illnesses, even your own children, to prevent getting a stomach bug, norovirus, or anything else that could lead to nausea or vomiting.
Dealing with constant anxiety or panic attacks, fearing that your worst nightmares will come true or that you'll lose control of the situations you're desperately trying to manage.
Facing difficulties eating in restaurants or other people's homes due to the lack of control over the kitchen's cleanliness.
Feeling like your entire day revolves around avoiding vomit or individuals who might vomit, and the fear of what would happen if you can't escape it. The inability to control your thoughts can be incredibly frightening.
Avoiding traveling by plane, bus, or boat due to concerns about potential nausea.
Becoming housebound or only feeling comfortable in familiar "safe places" where you believe you have some control.
Obsessing over cleanliness and germs, constantly washing or sterilizing everything to prevent getting a germ that could make you sick and result in vomiting.
Delaying starting a family due to the fear of morning sickness.
Spending hours researching prescriptions and immediately discarding them if they list "nausea" as a side effect.
Worrying about needing hospitalization and being surrounded by sick individuals.
Making career choices based on fear or avoiding school due to anxiety and fear.
Searching for the best anti-emetics to manage symptoms instead of addressing the underlying issue once and for all.
Struggling with extreme underweight due to only consuming "safe" foods.
Keeping your fear a secret, fearing that others will perceive you as strange because your phobia is considered "dirty" and embarrassing. Living with emetophobia can be incredibly lonely and scary.
Complete Recovery from Emetophobia is Possible
Before discussing how to overcome emetophobia, it's important to understand how fear works and why it's not your fault.
Your fear of vomiting doesn't make you strange, cowardly, or weak. It stems from your anxiety tricking you into associating vomit or vomiting with danger, mislabeling it as a "threat".
Your fear is simply a reaction to the signals sent by your mind. When your brain perceives something as dangerous, it activates your internal alarm, urging you to avoid the threat and protect yourself at all costs.
However, this is a big misunderstanding. Your mind has mistakenly learned that vomiting equals danger.
Even thinking about vomit triggers overwhelming anxiety, obsessive thoughts, and a strong urge to avoid the perceived threat. This activates the "fight or flight" response, causing your body to take immediate and significant action to protect itself, whether the threat is real or imagined.
By now, it's probably evident why your previous attempts have been unsuccessful.
All of the things we have discussed so far operate on an emotional level, which is why many other solutions and therapies for emetophobia often fail. They try to address an emotional problem using logic, but it simply doesn't work!
Traditional talk therapy often aims to "explain" why you shouldn't be anxious about vomiting and how you feel. Let me ask you, are you choosing to be afraid? Do you think you only need more rational arguments? Do you believe that if someone tells you why having emetophobia doesn't make logical sense, you will feel okay?
I didn't think so.
As you have learned, once your fear kicks in, it can be nearly impossible to control. Trying to reason with yourself or discussing it won't alleviate your anxiety any more than you can talk yourself out of a toothache. You need to learn how to prevent your anxiety before it starts.
I collaborated with Dr. Cheryl Lane, a Doctor of Clinical Psychology, to develop a straightforward, step-by-step program for overcoming emetophobia, which has received high praise and has been used by individuals worldwide…
I created a step-by-step program in partnership with a Doctor of Clinical Psychology that I believe can help you overcome the core of your fear, so it never holds you back again. It's not about merely "coping" with your emetophobia or anxiety… that never made ANY sense to me. You don't want to cope with your fear; you want it to be eliminated.
It's not about relying on addictive or hazardous medications that may only mask the symptoms of the real problem. It's not about embracing phony New Age miracle cures, hypnosis, affirmations, or other ineffective methods that do nothing to help you conquer your emetophobia. Let's be honest, you know that just thinking positive thoughts won't magically solve all your problems. Instead, I will show you how I believe you can address the root cause of your emetophobic fear response and change it.
The Emetophobia Recovery System has become one of the most widely used and recommended programs for overcoming emetophobia worldwide, for one simple reason: it transforms lives. I am confident that you will find no other resource more specialized, trusted, or effective in helping you overcome your fear.
It's called the Emetophobia Recovery System, and it's helping people like you, who used to struggle with emetophobia, lead different and improved lives.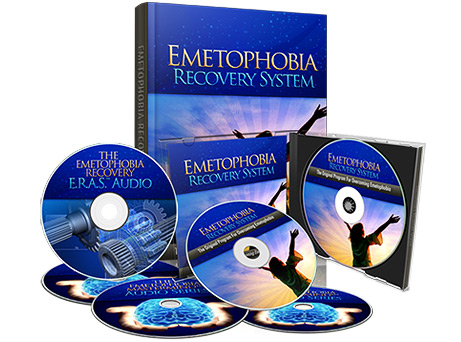 You won't find our trademarked techniques or material anywhere else.
The Emetophobia Recovery System offers unique techniques such as the RIDE Technique™, Red Sock Relaxation™, Ringing Your Own Doorbell™, and more. These methods are not found in any other program, book, or resource for emetophobia.
Gain insights from influential experts in the fields of mental health and psychology, who share their advice and perspectives on overcoming emetophobia and anxiety.
Benefit from specially designed audio resources that help you practice the skills you'll learn, quiet your mind, and regain control over your life.
Simply put, there is no better or more comprehensive program available anywhere for overcoming emetophobia.

Here's a glimpse of what you'll learn in the program…
Discover a simple 4-step technique that can help you stop anxiety and obsessive thoughts about vomit. You can learn it in less than 15 minutes and apply it throughout your life.
Understand why you can't easily control scary and irrational thoughts, and learn how to use your personality traits to overcome them. We'll help you change your perspective and clear your mind.
Learn what happens to your body during anxiety and why it's not something to fear. Gain a new understanding that allows you to face it without apprehension. This skill is something you can develop.
Identify the underlying fears that contribute to your emetophobia and conquer them. Explore why it's often more complex than just a fear of vomiting.
Discover common actions you may be unknowingly doing that worsen your emetophobia every time.
Unlock a small adjustment that will boost your confidence in handling any situation.
Recognize and avoid the 5 patterns of faulty thinking that hinder your success in overcoming fear.
Learn when it's best to avoid facing your fear.
Create a personalized plan to conquer your emetophobia.
Deal with unsupportive friends or family regarding your emetophobia.
Utilize a recommended technique to retrain your brain's perception of vomiting.
Testimonials from our clients: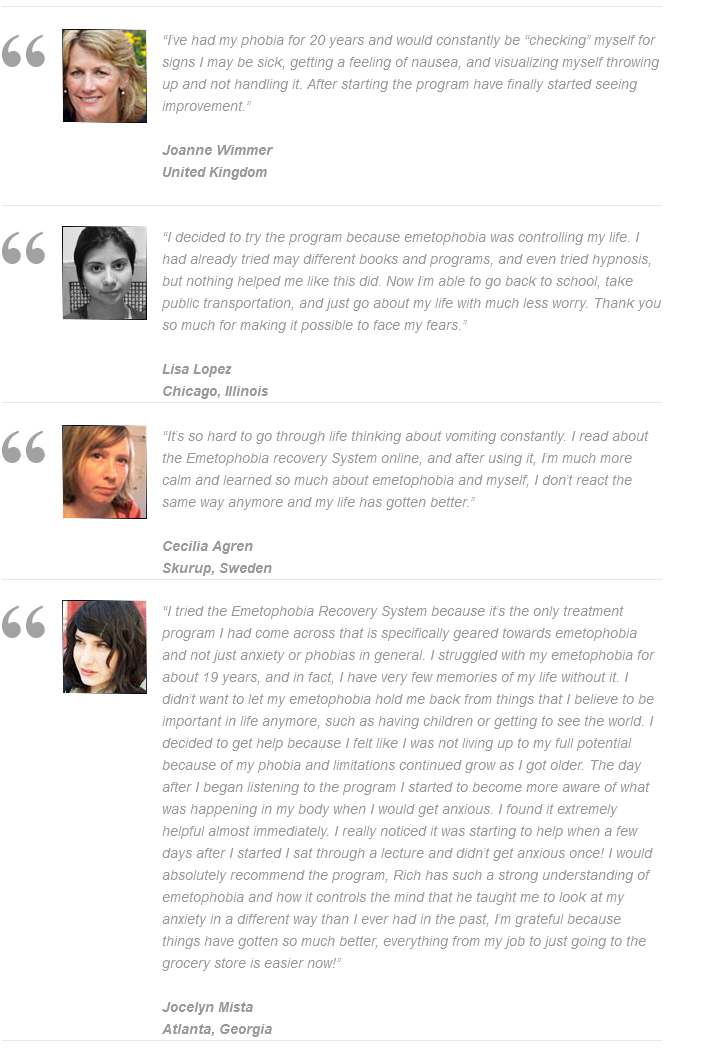 Explore everything included in the Emetophobia Recovery System…
The Emetophobia Recovery System is a comprehensive program designed to help you overcome your emetophobia quickly and easily. Here's what you'll get:
The Emetophobia Recovery System Manual
The Emetophobia Recovery System Manual provides a complete guide to overcoming your fear of vomiting. It takes you step by step through the process of replacing negative, scary, and irrational thoughts with feelings of security and confidence. You'll learn how to disrupt the anxiety cycle and regain control, allowing you to feel like yourself again.
The Audio Version of the Emetophobia Recovery System
You can now listen to the Emetophobia Recovery System on your computer or iPhone, whether you're at the gym, in your car, or anywhere you have some time and want an extra motivational boost. The program's complete and unabridged audio version is included with your order.
The Emetophobia Recovery Audio System (E.R.A.S.™)
The Emetophobia Recovery Audio System (E.R.A.S.) is a resource you can turn to throughout your recovery journey. It helps you quiet your mind, practice your skills, and initiate positive changes through "virtual" exposure sessions. The E.R.A.S. includes three specially developed audio tracks designed to complement the other materials in the Emetophobia Recovery System. These exclusive audio tools are only available as part of the program and are considered critical for anyone seeking to overcome their fear.
In the first track, you'll receive direct guidance on calming your reaction during anxiety-inducing situations. In just a few minutes, you can regain control, find inner peace, and feel more confident in facing any challenges that may arise.
The second and third tracks offer powerful audio sessions that allow you to slow your thoughts, stay present, and practice the skills taught in the program. You can choose a safe and comfortable location to engage with these sessions at your own pace.
Used in conjunction with the other materials in the Emetophobia Recovery System, the E.R.A.S. Audio becomes an indispensable tool for retraining your mind towards success, peace, and freedom from anxiety, obsession, or panic.
The Emetophobia Mastermind™ Audio Series
In the Emetophobia Mastermind™ Audio Series, I've interviewed some of the most influential and recognized names in psychology and mental health to provide their advice, tactics, and recommendations for overcoming emetophobia. This panel of experts, exclusively assembled to discuss the treatment of emetophobia, offers valuable insights and a wide range of methods, strategies, and tips that you can start implementing right away.
The complete audio series provides over 2 hours of exclusive information on emetophobia that cannot be found anywhere else!
Let's address some common questions you may have…
By now, you understand how your mind can be "tricked" into perceiving vomiting or feeling sick as dangerous. It's crucial to stop triggering your anxiety and fight-or-flight response by teaching your mind new reactions, ultimately overcoming your emetophobia.
You now know why your previous attempts or methods may not have been effective and how much better life can be without emetophobia. With the mystery surrounding your anxiety dissipating, conquering your emetophobia likely feels more realistic and achievable than ever, as it should, because it is possible.
The Emetophobia Recovery System includes everything you need to overcome your fear. It consists of the program manual, the complete audio version, the Emetophobia Mastermind™ Series, and the exclusive E.R.A.S.™ System. However, despite all these resources, you might still feel uncertain about whether the program will work for you. If you've read books, seen therapists, or tried other programs in the past, you may have reservations.
I understand your hesitation, but I won't let that hinder your progress and well-being. I cannot accept that you continue to struggle needlessly just because getting started hasn't been easy enough.
It's now up to you to decide whether you'll continue living in fear or take action to overcome your emetophobia and transform your life.